As one of the most prominent figures of the 20th century, Audrey Hepburn left her mark on Hollywood, humanities and society on a global scale. From that famous window scene in Breakfast at Tiffanys to her alliance with UNICEF, almost everyone knows a thing or two about our favourite icon.
We've decided to delve a little deeper, and present our top five facts you probably didn't know about Audrey Hepburn.
1. She had a pet deer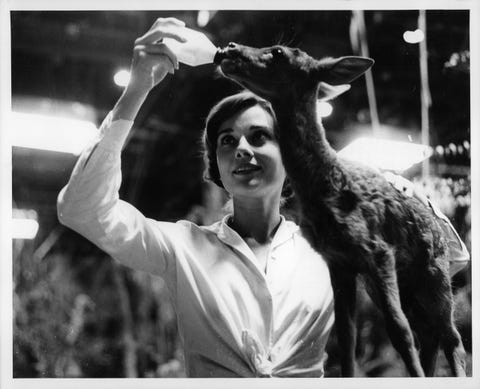 Because why not, right? In leiu of the more typical dog or cat, Audrey had a pet deer named Pippin. Pippin was to be her on-screen companion in the film Green Mansions, and the animal trainer suggested he go home with Audrey to become accustomed to her. Pippin followed her everywhere, even tagging along to the supermarket. The two formed a special bond, and Pippin was adopted by Audrey once filming had wrapped up.
2. She found it tough to survive during the war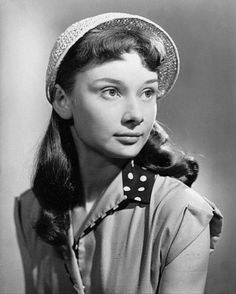 During WWII, the Germans occupied the town Audrey and her family lived in. No-one could come and go, surveillance was high and food was scarce. A young Audrey and her family had to turn to whatever they could find for food, including ground-up tulips and grass baked into 'bread'.
Years later, she was offered a starring role in the 1959 film The Diary of Anne Frank, but felt it would bring back too many memories of wartime, and so she declined.
3. There's a street in the Netherlands named after her
Audrey's face here says it all – we'd be stoked to have a street named after us too! In 1959, the town of Doorn in the Netherlands unveiled "Audrey Hepburnlaan", a road named in honour of the icon herself. It still exists today.
4. She considered herself an introvert
With the spotlight always shining down, Audrey admitted she didn't like being around people all the time and often just needed to be alone. She once famously said, "I have to be alone very often. I'd be quite happy if I spent from Saturday night until Monday morning alone in my apartment. That's how I refuel."
5. She was a big believer in being humble
Despite what the rest of the world could see, Audrey never viewed herself as particularly beautiful or stylish. Magazines were always discussing how to get 'Audrey's look', but she rejected the concept of her being a style icon. "My appearance is accessible to everyone," she noted. "With hair tied in a bun, big sunglasses and a black dress, every woman can look like me."
Want to learn more? Discover 4 Style Lessons From Audrey Hepburn. 

If you're feeling inspired by our favourite vintage icon, why not discover our range of Audrey-inspired dresses, tops and plenty more.